From Monday 28 November to Friday 2 December 2022, 52 students from 20 universities across Australia and New Zealand connected online with a host of remarkable STEM experts and leaders at the sixth annual AINSE Women in STEM and Entrepreneurship (WISE) School.
AINSE received funding support from ANSTO and the Office of the NSW Chief Scientist & Engineer to host the 2022 WISE School, which focuses on Women in STEM and their career opportunities in STEM generally, and within nuclear science and engineering in particular.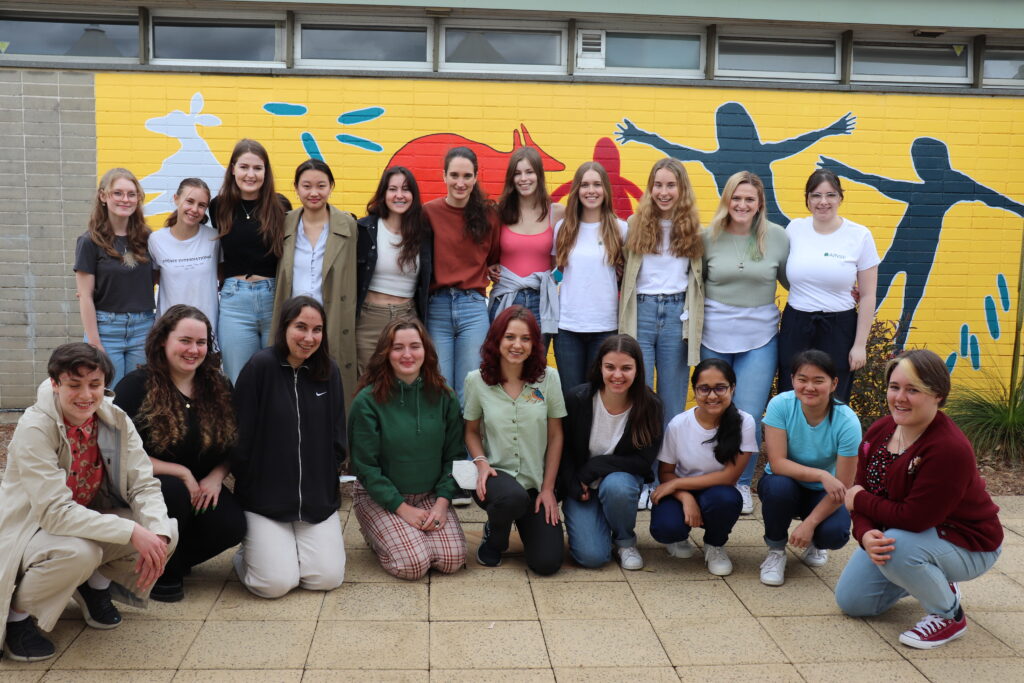 The 2022 WISE cohort met online for the first three days of the program, connecting from locations all across Australia and New Zealand, to engage with a diverse group of role-model scientists, engineers and distinguished guests. Students also took part in a Design Workshop hosted by Carol Azzam-Mackay from ANSTO's nandin Innovation Centre, and participated in a series of networking and social activities.
The final two days of the program were run as a hybrid online and in-person event, with 20 of the WISE students travelling to ANSTO's Sydney campus in Lucas Heights for the first time since 2019. Students were taken on virtual or in-person tours of ANSTO's landmark research facilities by the ANSTO Discovery Centre team in a unique, behind-the-scenes exploration of the OPAL Multipurpose Reactor, Australian Synchrotron, Australian Centre for Neutron Scattering, and Centre for Accelerator Science. The entire 2022 WISE Cohort also had the opportunity to engage in in panel discussions with the 2021 WISE students, and to connect with their new mentors from ANSTO and AINSE.
Throughout the WISE School, a diverse group of guest speakers shared personal stories and lessons learned on their own career paths from first-year undergraduates to recognised leaders in STEM and Entrepreneurship, providing students with invaluable insights into overcoming a diverse range of personal and academic challenges that can occur on the path to success.  Keynote speakers included Prof. Mary-Anne Williams, Michael J. Crouch Chair for Innovation at the University of New South Wales; Dr. Kirsten Ellis, Leader of the Inclusive Technology Research Group at Monash University; and Dr Jess Melbourne-Thomas, 2020 Tasmanian Australian of the Year and Leader of the Marine Socio-ecological Systems Team with CSIRO Oceans & Atmosphere.
Other outstanding speakers who shared their personal stories with the 2022 WISE students included:
Prof. Claire Lenehan, Dean (Research) at Flinders University and past AINSE President;
Fuchsia Sims, Social Impact Entrepreneur and spokesperson of the Adventure Junky Brand;
Dr. Ana Baburamani, Science Advisor, Department of Defence Science and Technology;
Dr Stephanie Gardner, Marine Biology Researcher at the University of Sydney;
Dr Charlotte Willilams, Group Leader, CSIRO;
Dr Paul Donnelly, Deputy Director, Chau Chak Wing Museum;
Katrina Van de Ven, Founder of Leukbook;
Prof. Anna Paradowska, Industry Engagement Manager at the Australian Centre for Neutron Scattering, ANSTO, and Conjoint Professor in Advanced Structure Materials, The University of Sydney;
Dr. Francesca Gissi, Ecotoxicologist, ANSTO;
Lillian Caruana, AINSE Alumni;
Dr. Emily Finch, Beamline Scientist, ANSTO Australian Synchrotron;
Dr. Elisabeth Tondl, Radiochemist, ANSTO NST Biosciences;
A/Prof. Mitra Safavi-Naeini, Research Leader, Human Health, ANSTO;
Yoko Nara, Training Program Coordinator and Lecturer at the Japan Atomic Energy Agency (JAEA); and
Michelle Durant, Managing Director of AINSE Ltd.
In addition, students were able to engage with a panel of representatives from ANSTO's nandin Innovation Centre to receive excellent entrepreneurial advice from experts Prof. Tim Boyle, Founder and Executive of nandin, Matt Lynch, Founder and Managing Director of Affirmer, and Scott Coleman, Founder and Director of Crypses.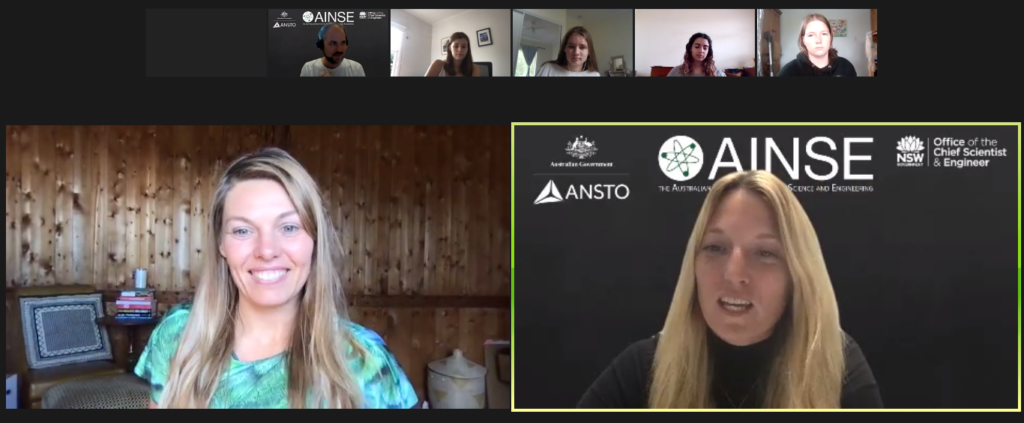 On the final day, students connected with their mentors from AINSE and ANSTO in an online networking event and discussion forum that launched the year-long WISE Mentorship Program. Students will continue to receive guidance and support from their mentors throughout 2023 through a series of regular online videoconferencing sessions and additional discussion topics.
The WISE Mentorship Program is the cornerstone of the AINSE WISE School, allowing the next generation of Women in STEM to connect with established leaders at ANSTO and AINSE, and with past WISE alumni. AINSE are grateful to all our mentors who generously volunteer their time to share their expertise regarding STEM career opportunities, and strategies to overcome the challenges that may be encountered on the road from undergraduate studies to an established STEM or entrepreneurial career.
AINSE would also like to extend our gratitude to all our guest speakers for their key efforts in making the 2022 WISE School a success, and thank both ANSTO and the Office of the NSW Chief Scientist & Engineer for their funding support. We look forward to hearing from our new 2022 WISE students as their own career journeys continue.
For more information about the WISE School, and to apply to be part of the next round, please visit our WISE website.