AINSE Japan Particle Therapy Tour 2018
The AINSE Japan Particle Therapy Tour 2018 was a huge success. Delegates had the opportunity to visit the Heavy Ion Medical Accelerator in Chiba (HIMAC), ion-beam Radiation Oncology Centre in Kanagawa (I-ROCK), and the Proton Medical Research Centre in Tsukuba to learn about the benefits of particle therapy. Thanks to Dr. Prokopovich from ANSTO for assisting AINSE in hosting this tour.
AusYGN secures IYNC conference for Sydney in 2020!
Australia is set to host the International Youth Nuclear Congress (IYNC) in Sydney in 2020, following a successful bid campaign by the Australian Young Generation in Nuclear (AusYGN). Read more…
STEM leaders forge path to stronger Australian science and technology
Presidents, CEOs and other leaders of Australia's most prominent science, technology, engineering and mathematics (STEM) organisations gathered in Canberra on 1 May 2018 to highlight the important role that science and technology will play in Australia's future. Read More…
Powerful new microscope a game changer in battle against disease
Australia's most advanced and powerful microscope, capable of visualising down to the level of individual atoms has just begun it's operating life at ANSTO. Read More…
SAAFE Research Internship Program – Applications Open
Applications are now open for the 2019 Scholarship AINSE ANSTO French Embassy (SAAFE) Research Internship Program.
The SAAFE Program supports early careers researchers at PhD and postdoctoral level to expand research and innovation activities within Human Health, the Environment and the Nuclear Fuel Cycle, and to initiate sustainable research networks and linkages to support Australia and France in research and innovation.
To find out more about how you could incorporate a French-Australian exchange program into your early career research, visit our SAAFE site.
Applications close 1st May 2019.
AINSE Women in STEM and Entrepreneurship (WISE) School 2018 |  5 December – 7 December
AINSE's second annual Women in STEM and Entrepreneurship (WISE) School saw 57 students from 32 universities across Australia and New Zealand join a diverse group of scientists, engineers and distinguished guests to network and share their experiences.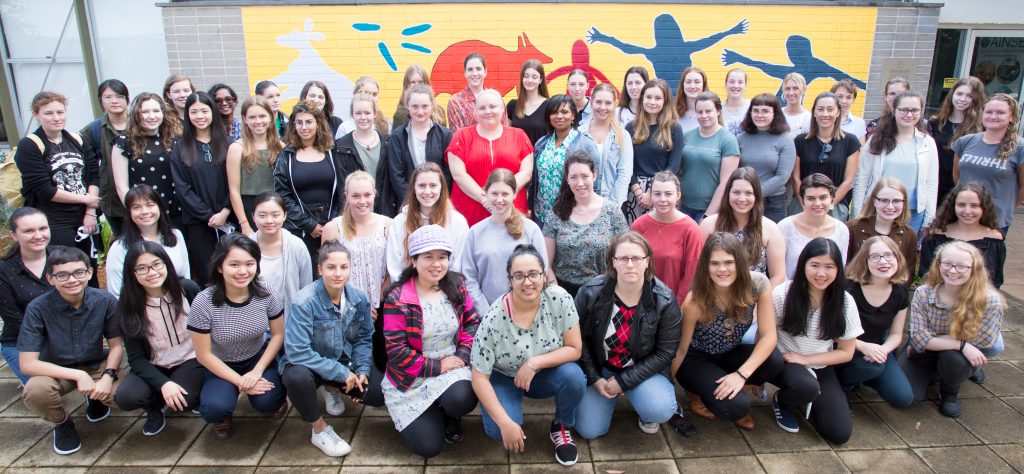 In 2018, AINSE received funding from Office of the NSW Chief Scientist & Engineer within the NSW Department of Industry, with in-kind support from ANSTO, to hold a school specifically targeted towards first-year female students with an emphasis on Women in STEM and their career opportunities within nuclear science and engineering. AINSE invited each of its thirty-five Australian and six New Zealand member universities to nominate students to attend the program.
In the first week of December, the cohort of first-year female students travelled to ANSTO's Sydney campus in Lucas Heights where AINSE hosted the 2018 WISE School. Over the course of the three-day intensive program, students engaged in networking and social activities, met high-profile women in nuclear science and engineering, and participated in panel discussions and tours of ANSTO's landmark research infrastructure.
The WISE School was opened on December 5 by AINSE Managing Director Michelle Durant, who provided students with an overview of AINSE and the opportunities AINSE provides to students and early-career researchers. Michelle later shared her personal career journey from research to science outreach and Managing Director of a science-and-engineering-based organisation.
Over the course of the WISE School students also heard from special guest speakers Prof. Madhu Bhaskaran, Research Leader at RMIT University; Siobhan Tobin, ANSTO Graduate Physicist, Rhodes Scholar and Director of the Australian Physics Olympiad; Susie Gemmell, Engagement Director at the Sydney School of Entrepreneurship; and Erica Smyth AC, professional Company Director and former geologist.
A series of panel discussions covered a broad range of topics, from effective professional networking to student life and career opportunities. Panellists included Dr. Anna Paradowska, Dr. Tim Boyle and Sarah Ballantyne from ANSTO; AINSE students Katie Colborn, Paige Bromson and Mitch Klenner; president of Australian Young Generation in Nuclear and Chair of Young Engineers Australia Sydney Julia Garside; and president of Women in Nuclear's Australia chapter Dr. Joanne Lackenby, who was recently named one of Science and Technology Australia's Superstars of STEM.
ANSTO CEO Dr. Adi Paterson also visited the students to share his personal accounts of the female trailblazers in his family and his goals and experiences as a Male Champion of Change.
A key component of the WISE School is an ongoing mentorship program involving the WISE students, past WISE alumni, and staff members from ANSTO and AINSE. A networking dinner was held on the second day of the school in order to allow mentors and mentees to meet and discuss the challenges and opportunities present in STEM careers generally, and in the fields of nuclear science and engineering specifically. These conversations will continue through a series of scheduled videoconferences that will run throughout 2019.
AINSE would like to thank our guest speakers and mentors for their key efforts in making the 2018 WISE School a success, as well as ANSTO and the Office of the NSW Chief Scientist & Engineer within the NSW Department of Industry for their support. We look forward to hearing from our 2018 WISE alumni as they continue their journeys to successful careers in STEM.
Australian Institute of Nuclear Science and Engineering (AINSE)
The Australian Institute of Nuclear Science and Engineering (AINSE) is an integral organisation for enhancing Australia's and New Zealand's capabilities in nuclear science and engineering by facilitating world-class research and education. 
AINSE offers a range of programs and services to its members including generous conference support, inspiring symposiums, honours & postgraduate scholarships, and intensive education schools. These benefits aim to foster scientific advancement and promote an effective collaboration between AINSE members and ANSTO.
The AINSE Trust
The purpose of the AINSE Trust, established in 2008, is to provide scholarships and fellowships for Australian students and researchers who are participating in AINSE programs. You can help by providing a donation to the AINSE Trust. 
More Information
Lets Get Social!
Like and follow AINSE Ltd. on your favourite social media sites:
Facebook
  |  
Twitter
  |  
LinkedIn