On Tuesday 23rd May, AINSE Scholar Gold Medals for excellence and impact in research were formally awarded to Dr. Rhiannon Boseley (Curtin University) and Dr. Gemeng Liang (University of Wollongong).
Dr. Boseley and Dr. Liang were joined by family, friends and colleagues as they were presented with the medals by AINSE Deputy Board Chair Helen Liossis and AINSE Managing Director Michelle Durant in front of an audience of AINSE member representatives. The ceremony was hosted from the AINSE Theatre and livestreamed via Zoom, with Dr. Liang present in the Theatre and Dr. Boseley joining remotely from Canada. Dr. Jitraporn (Pimm) Vonsvivut, one of Dr. Boseley's ANSTO co-supervisors, was present to accept the Scholar Gold Medal on Dr. Boseley's behalf.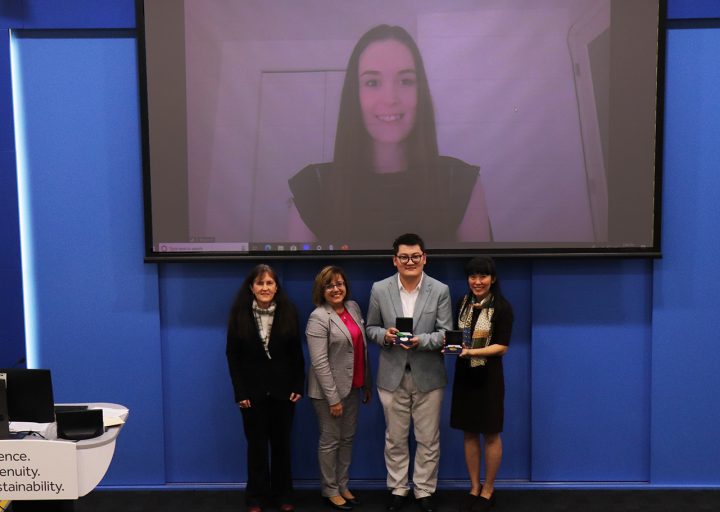 Dr Rhiannon Boseley's research focused on the chemistry of latent fingermarks in the context of forensic science – and specifically, how different spectroscopy and microscopy modalities available at synchrotron light sources could be applied in this area.
Prior to Dr. Boseley's PhD, these synchrotron techniques had rarely been applied as analytical tools in the field of forensic science. Using the X-ray fluorescence microscopy, X-ray absorption and Infrared beamlines at ANSTO's Australian Synchrotron, Rhiannon was able to answer critical and long-standing research questions pertaining to forensic fingermark chemistry. Her results have had direct impacts on forensic science study design, and have opened doors for the development of new protocols that may ultimately be used in our courts of law.
Dr. Liang's research focused on new and novel battery materials, using the neutron powder diffraction beamlines at ANSTO's Australian Centre for Neutron Scattering to establish comprehensive and systematic structure, chemistry and function relationships of these materials.
Dr. Liang's use of neutron radiation techniques has contributed to milestone breakthroughs, including the synthesis of a series of novel high-voltage spinel cathode materials for the next-generation of high-energy-density lithium ion batteries, offering superior rate performance and battery life. Gemeng's PhD research has opened doors for engineers and researchers to develop new battery technologies for electric vehicles and other high-power applications.
AINSE wishes to congratulate Dr. Boseley and Dr. Liang on their outstanding accomplishments, and looks forward to seeing the outcomes of their next research endeavours.
Read more about AINSE Gold Medals
Following the Award Ceremony, a special networking dinner was held to bring together representatives from the Australian nuclear science and technology sector. AINSE member representatives from across Australia and New Zealand met with members of the AINSE and ANSTO Boards, representatives from ARWA, ARPANSA, the ANA, WiN Australia, AusYGN and the French Embassy in Australia, alongside AINSE alumni and ANSTO researchers, at the Sydney Masonic Centre.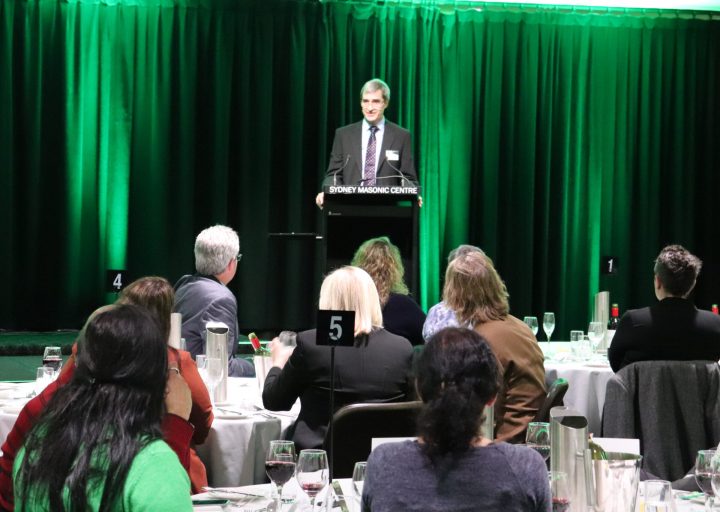 AINSE President Prof. Ian Gentle welcomed the distinguished guests to the evening, noting the unique networking opportunities afforded by the gathering of representatives from across the vast majority of Australia's nuclear sector.
AINSE Managing Director Michelle Durant looked forward to further AINSE opportunities to connect Australia's nuclear representatives, including establishing the AINSE Networking Dinner as an annual May event.
"It was wonderful to be able to bring so many people together for the first time since 2019 to kick-start future collaborations in nuclear science, engineering, and related research fields. We look forward to continuing these conversations as our sector expands."