AINSE has well equiped conference facilities for use by members. These facilities include:
(a) a lecture theatre which will seat 150. The theatre is equipped with multi-system projection, IBM PC computer interface, 35mm and overhead projection, and sound system and recording equipment.
(b) a conference / seminar room with a 40 seat capacity, complete with audio-visual facilities.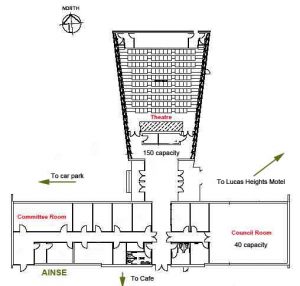 Poster boards for presentations are available and have a useable space of 1470mm wide by 870mm high.
Bookings and further information
AINSE Secretariat
Phone 02 9717 3436
Fax 02 9717 9268
E-mail ainse@ainse.edu.au