AINSE has well-equiped conference facilities for use by members. These facilities include:
The AINSE Theatre, a lecture theatre with 150-seat capacity. The theatre is equipped with multi-system projection, PC computer interface, sound system and recording equipment, and videoconferencing capabilities.
The AINSE Council Room, a conference / seminar room that can be reconfigured to seat 30 people comfortably, complete with audio-visual facilities and videoconferencing capabilities.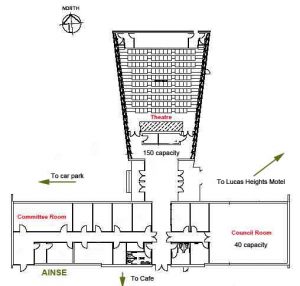 Poster boards for presentations are available and have a useable space of 1470mm wide by 870mm high.
Bookings and further information
To request a booking of AINSE facilities, please contact the AINSE Secretariat with your preferred dates & times, approximate numbers, and purpose of booking.
Phone: 02 9717 3376
E-mail: ainse@ainse.edu.au
Please be aware that any catering must be delivered to, and consumed within, the foyer of the AINSE Building. No food or drinks (except for water) are permitted within either the AINSE Theatre or AINSE Council Room, and no alcohol is permitted within the AINSE Building.